Staff: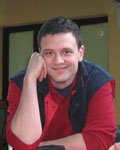 Name: Ivan Vranić
Date of Birth: January 28th 1983
Place of Birth: Belgrade, Serbia
Gender: Male
E-mail: ivanvran@eunet.rs
Education        Faculty of Philosophy, Department of Archaeology, University of Belgrade, Serbia
(2008- ) PhD Studies
PhD thesis currently in progress: Social relations between the Central Balkans and the Aegean in 4th and 3rd century BC: Case Study of the site Kale in Krsevica 
(2006-2007) M.A. in Classical Archaeology
Master's thesis: Ceramic material from the archaeological site Kale- Krsevica: Possible Theoretical and Methodological Approaches
(2001-2006) BA in Prehistoric Archaeology
Bachelor's thesis: Settlement patterns of the Scordisci
Employment   Institute of Archaeology, Belgrade, Serbia
(2008- )           Research Assistant, Project title: Metal Ages in the Morava Valley (No. 147007)
(2006-2008)    Research Trainee, Project title: Metal Ages in the Morava Valley (No. 147007)
Interests:
Socio-economic relations between the Iron Age communities on the Balkans and Classical and Hellenistic Greece. Fortified Iron Age settlements in the Balkans hinterland, constructed following some Greek architectural traditions. Production, circulation and consumption of wheel made gray pottery in these settlements. Economic anthropology. Postcolonial archaeology. European Iron Age.
Language skills:
Fluent in English, basic knowledge of German
Congresses:
(2009) The 4th International Congress on Black Sea Antiquities, Istanbul, Turkey
Bibliography:
Popović, P., Vranić, I. (2008), The textile industry at Krševica (southeastern Serbia), Starinar LVI, 309-326.
Vranić, I. (2009), Theorethical and Methodological Problems of Interpretation of the Pottery Material from the Site Kale in Krševica, Zbornik Narodnog muzeja XIX-1, 163-203.