Staff: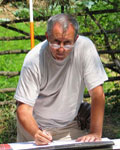 Name: Miroslav Jeremić
Date of birth: November 16th 1943
Place of birth: Ranovac (Petrovac na Mlavi)
E-mail: m.jeremic@ai.sanu.ac.rs
Education: Faculty of Architecture, University of Belgrade, Serbia
(1998) Ph D Faculty of Architecture, University of Belgrade
(1981) M.Sc. Faculty of Architecture, University of Belgrade
(1968) B.Sc. Faculty of Architecture, University of Belgrade
Employment: Institute of Archaeology, Belgrade, Serbia
(1999) Senior Research Fellow
(1999 - ) co-director (with Dr Ivana Popović) of archaeological project Sirmium
Interests:
Architecture and urbanism in antique, early Byzantine and medieval towns, building techniques and materials
Field Experience
Investigations of medieval towns in Montenegro (Ulcinj, Sv. Stefan, Budva, Kotor, Herceg-Novi) 
- Kruševac
- Mediiana (near Niš),
- Viminaciuma
- Caričin Grad (Iustiniana Prima),
- Salona (near Split)
- Krševica (near Bujanovac).
- Sirmium (Sremska Mitrovica)

Specialization and scholarships:
(1973)  Louvre Museum, Paris, France
(1981) Center for Antique Architecture of CNRS in Pau, France
(1987 and 1996) French School in Rome
(1989, 2001 and 2005) visiting lecturer at University Paris-Sorbonne (Paris IV)
Acknowledgments:
(1993) - Plaketa grada Sremske Mitrovice
(2010) - Chevalier dans l'Ordre des Palmes académiques
Membership in professional associations
Member of Association pour L' Antiquite tardive, Paris, France.  

    Selected bibliography: 
Drveni skelet u arhitekturi Sirmijuma od I do IV veka (Les Constructions du pan de bois  à Sirmium de Ire  à IVme s.),
Starinar XXXVI, Belgrade 1985, p.69-90.
Castellum aquae antičke Medijane(Castellum aquae de Mediana antique), Starinar XXXIX, Belgrade 1988, p.61-84.
Balajnac, aglomération protobyzantine fortifiée, Antiquite tardive 3, 1995,  p.193-207.
The Caričin Grad Necropolis, Starinar XLV-XLVI, belgrade 1995, p.181-  195.
L'Evolutiion du format des briques sur le territoire de la Serbiie, de l' Antiquite au Moyen Âge, MEFRM 109, Rome 1997-1,
p.7-20.  
Brick Kilns in Sirmium, Starinar L, Belgrade 2001, p.131-154.
L'hippodrom de Sirmium à la lumière de nouvelles recherches,  Mélanges d'Antiquité
Tardive : De infima antiquitate, sdudiola in honorem Noël Duval (Collection de
l'Antiquité Tardive 5), Turnhout 2004, p. 1-15                               
La sculpture rchitecturale de l' église de Bregovina (VIe s.ap.J.C.) en  
Serbie du Sud, Starinar LIII-LIV, 2004, p.111-137.
Sirmium-l'organisation urbaine à la lumière de nouvelles recherches, Die
norisch-pannonische Städte und das römische Heer im Lichte der neusten  
archäologischen Forschungen (II Internationale Konferenz über norisch-pannonische 
Städte Budapest-Aquincum 11-14 September 2002), Budapest 2005, p.179-200.
Main Urban Comunication in Sirmium, Römische Städte und Festungen an 
der Donau (Akten der regionalen Konfrenz, Beograd 16-19 Oktober 2003), Beograd
2005, p.90- 96.  
Antičko i tradicionalno graditeljsko nasledje (Kale u Krsevici) (Antique and 
Traditional Architectural Heritage (Kale in Krsevica), Zbornik Narodnog Muzeja
(Recueil du Musée National) XVIII-1, Beograd  2006, p.229-262.
On Some Vaulting Techniques in the Territory of Serbia in the Late Roman 
       Period (Felix Romuliana, 50 years of Archaeological Excavation; Papers of the
International Conference, Zaječar, 27th -29th October 2003), Belgrade 2006, p.83-93.